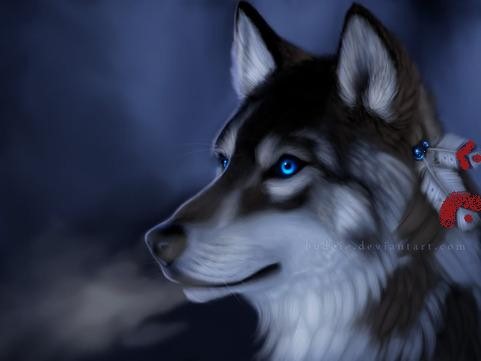 Full Name:Roxellia Lupa Rufa Adalwolfa Dolphus (Pronounced Rock- CELL-ee- uh)
Nickname and Name Meaning: Roxy, Rox-Yer-Sox-off- Roxigal (I shall never forgive you Silas. XD), Mainly Roxy. Roxellia is meaningless, I believe, Lupa is derived from Canis Lupus, the very classification of the great Grey Wolf, Rufa is from Rufus, coming from Canis Rufus, which is the classification of the Red Wolf, though in Roxy's case it's a reference to her pelt. Adalwolfa means simply Noble She-Wolf, Dolphus is a family name that all her ancestors, right up to Luna, have.
Rank: Well, nobody Roleplays the Alpha's  really so kind of the Alpha, Kind of the Beta, mostly the next in line.
Pack or Alliance: The Pack of Everlasting Song, or SongPack
Gender: She's a Fae (a female wolf)
Mate: None. Honestly she's kind of happy as a Single Pringle.
Crush:Not yet
Pups: NOPE!
Age: Young Adult
Personality: Roxy is a fairly strict duty-before-party kind of fae, but she's fairly nice and humorous off duty. She is known to be feisty and witty, and if she approves of or loves (or anything like that)  something she is loyal to them to the end. Unless they stab her in the back. And once someone makes a bad impression on her, you better change her mind fast because this girl holds grudges. She is very harsh on herself, and good is never good enough for the fae. She believes she could never live up to Luna's name, believing that she could never live up to Luna's great name, and is tiring and almost scared of every wolf in her pack treating her odd, comparing her to her great-great-great-great-great-great grandmother. Also, she fears loosing her individuality itself.
Traits: She's fast and strong, trained her entire life to kill and be an Alpha. She knows the healing fundamentals, but really not a great one. She is a very, very good singer.
History: Roxy has a long, complicated history. She was raised as a normal pup, after quickly befriending Balto, unknowing they were destined to be co-alphas and mates. Whenever hunters drove them out and set fire to the camp, splitting SongPack into two groups in the chaos, and Roxy's sister Kreatarian was "lost" to the flame, and then they moved to a new place. So then, after living there for a while, there was yet another fire, driving them out again, they found SongPack after a long journey, and they reunited. Later she finds that she is Luna's new form, meaning Luna can also see the world from Roxy's eyes, like a possession but Roxy is still in control of herself, and this "Possession" Could lead Roxy to endless power- Or her ultimate death. Whichever comes first. (WOO-HOO! FUN!)
Looks: Roxy is a tall, lean wolf with a red and white pelt, no trace of grey visible on her body. It is a bit more "blonde" in the warmer summer months, and darkens in winter, similar to human hair. Her face consists of a white muzzle, red mask, a black nose adorned with whiskers of the same hue, and of course her beautiful crystal blue eyes.